Landmines are traps with 4 types that react to different sets of potential triggers.
Obtaining
Crafting
Landmine (Interacts with: everything)
Landmine (Interacts with: mobs, players and redstone)
Landmine (Interacts with: players and redstone)
Landmine (Interacts with: redstone only)
Usage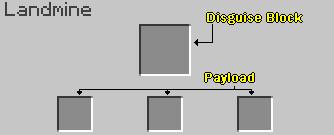 The Landmine's UI has 4 slots, one Disguise Block and 3 Payload slots.  You can put 1 item in each.
The Disguise Block can accept any non-transparent block, and the landmine will change its appearance to resemble the top of the block you put in.
The Payload Block can accept -any- Potion (beneficial or harmful, splash or regular), as well as TNT blocks or fireworks.
In order to go off, a Landmine needs to have AT LEAST 1 Payload put in, though it does not require any Disguise block.  When triggered, a Landmine will do damage to anything standing directly on it (5 damage, 2 1/2 hearts, to an unarmored player) as well as discharging any Payload loaded in to it.  Splash Potion payloads will effect a 3 block radius area around the Landmine itself, while non-splash potions will only effect an entity standing on the Landmine itself.
Potion payloads do not stack in effect.  Only the strongest version of a given potion effect will take effect For example, Strength 2 will always take effect over Strength 1, an extended Strength 1 will take effect over a Strength potion, and a regular Strength 1 Potion will take effect over a Splash Potion of Strength 1.
TNT payloads DO stack in effect.  A 3 TNT payload will make a rather sizable crater (~20 blocks across in Sandstone) where the landmine is triggered. It can take a player in full diamond Blast Protection 4 armor blocking with a sword down to 5 hearts in one blast.