The Knapsack is an on-player storage item similar to a backpack. It has the storage capacity of a chest, stores its items when taken off, and can only be accessed via its GUI.
Recipe
Usage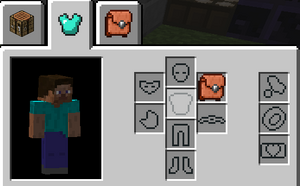 To access the Knapsack, place it in the designated slot of the Armor GUI. After exiting and re-entering the inventory, a Knapsack icon will appear when displaying the Armor GUI. Items can be placed in the Knapsack, and will remain inside even if the Knapsack is taken off. Right-clicking while in-hand
WILL
NOT 
work. The knapsack has the same storage space as a chest.
Ad blocker interference detected!
Wikia is a free-to-use site that makes money from advertising. We have a modified experience for viewers using ad blockers

Wikia is not accessible if you've made further modifications. Remove the custom ad blocker rule(s) and the page will load as expected.