Crafting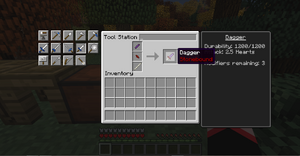 You will need a
Knife Blade
, a
Crossbar
, and a
Tool Rod
.
In your Tool Station or Tool Forge, navigate to the Dagger icon, and place the parts in their respective positions. See Tool Crafting for in-depth guide on creating tools and weapons.
Usage
Left click to do a standard melee attack, and right click to throw.
A thrown dagger does more damage than a melee attack.[damage ratios needed]
When you throw the dagger, be wary of it bouncing back towards you, and causing you to take damage.
If the dagger hits and sticks on the ground, zombies can pick it up and attack you with it.
(When A Dagger is thrown it elevates 1-2 blocks up in the air, if a target is dead ahead, look down a bit before throwing.)
Since each part used in creating a dagger requires 0.5 of each material used, some may choose to use shards alone to create the dagger.
Ad blocker interference detected!
Wikia is a free-to-use site that makes money from advertising. We have a modified experience for viewers using ad blockers

Wikia is not accessible if you've made further modifications. Remove the custom ad blocker rule(s) and the page will load as expected.