This feature has been removed. You can reuse it with Thermal Foundation mod.
Bronze




Mod
Tinker's Construct
Description
A common alloy. It's a bit better than iron.
Stackable
Yes (64)
Smeltery

?

Yes
Handle Modifier
1.1x
Mining Level
Diamond
Mining Speed
6.8
Durability
See durability
Full Tool Durability
See durability
Base Attack
3.5
Material Trait(s)
Dense
[Source]
Bronze is an alloy created by combining Molten Copper and Tin in a Smeltery in a 3:1 ratio; this yields 4 Bronze ingots. It can be used for tools, and is also required to craft Exo-Armor (dev build 1.5.3d1 and up).
Bronze was about equal to Iron. For pickaxes, it was on the same level, but has a lower durability. It was easier to produce in mass quantities than iron, because of the amount of exposed copper and tin. It added the Reinforced I modifier, the same as Iron. However, in the current update, Iron has different trait called Magnetic which attracts nearby things when attack.
Obtaining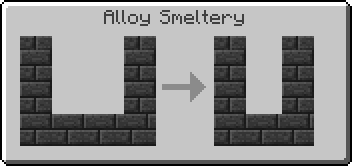 Durability