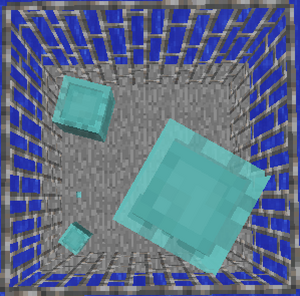 Blue Slimes are a new variation of vanilla's green slimes added by Tinkers' Construct. They drop
blue slime balls
when killed and are found only on
Slime Islands
. Additionally, some mobs can spawn riding the Slime, such as Skeletons and Creepers.
Behavior
A blue slime health and damage table

| Size | Health | Damage |
| --- | --- | --- |
| Small | 4 | 0 |
| Medium | 12 | 3 |
| Large | 24 | 6 |
Unlike vanilla slimes, Blue Slimes have no trouble jumping out of water. When killed, they do not spawn multiple of a smaller size, and instead only spawn a single smaller version and have a chance to drop blue slime balls.
A method of farming Blue Slimes includes scooping up the water you find on the floating island and relocatating it so that Blue Slimes spawn is a chosen area.
Ad blocker interference detected!
Wikia is a free-to-use site that makes money from advertising. We have a modified experience for viewers using ad blockers

Wikia is not accessible if you've made further modifications. Remove the custom ad blocker rule(s) and the page will load as expected.