Aluminum Brass




Mod
Tinker's Construct
Stackable
Yes (64)
Smeltery

?

Yes
[Source]
Aluminum Brass is an alloy made with Aluminum and Copper with a ratio 3:1. This yields 4 Aluminum Brass. The metals must be melted in a Smeltery.
Obtaining
Molten Aluminum Brass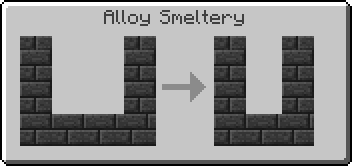 Uses
Molten Aluminum Brass can be poured into either an empty Casting Table to make a Blank Cast, or a Casting Basin to make a Block of Aluminum Brass.
Molten Aluminum Brass is also used to make part casts by pouring the metal over an individual tool part. It is a cheaper cast material than Gold.
Aluminum Brass has no uses other than making Casts, Drawbridges, and Igniters from Tinker's Mechworks. It cannot be made into tool parts.